Career –  Activity: Set Work Goals

Planning goals for work adds meaning to an important part of our lives.
To set work goals:
1. Review organization mission statement/goals
2. Review job description/duties
3. Generate ideas for goals that will add value
4. Make them SMART
Checklist:
Align with organization goals
Target top priorities
Provide best results for the investment required
Within reach but provide stretch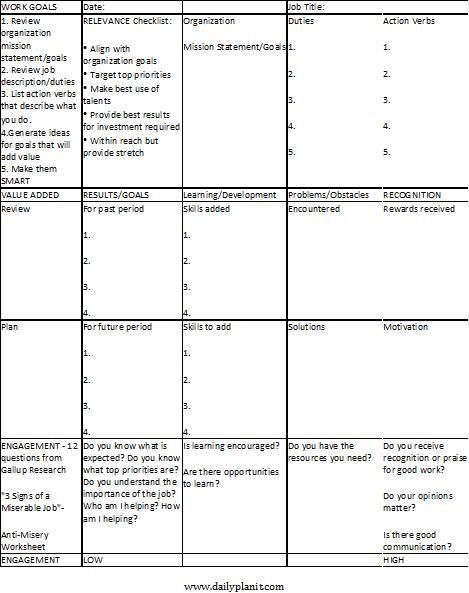 Use the free Work Goals form at Development Plans are Not Just for Work or the Work Goal form at the Daily PlanIt Shop.
This week, I will set four measurable goals that will add value to my work with a Work Goal Form.
Gallup Research resulted in 12 questions to measure Employee Engagement.
The opposite of engagement is described in a book by Patrick Lencioni,"Three Signs of a Miserable Job," which are:
Anonymity
Irrelevance
Immeasurement
Three Remedies to job misery are work that provides RECOGNITION, RELEVANCE and RESULTS. Work goals that create measurable results which are relevant to the Mission and goals of the organization meet most of the needs that require satisfaction for employee engagement. The final key for an engaged employee is recognition, preferably tied to results, i.e. relevant goals achieved. A simple verbal or written thank-you or praise can go a long way toward meeting needs for appreciation. Communication and Feedback are essential. A sense of purpose is also important. See more at Development Plan.
Tools: Work Goals at the Daily PlanIt Stiky Wiki includes tools like The Anti-Misery Worksheet, tips for setting performance goals and Recognition Ideas (pdf) at MIT. CNN has a Work Life Balance Calculator.
See also: Develop Work Skills| Development Plan | Work Engagement Board at Pinterest | Work Skills Toolkit
What Employees Say They Want | Top 10 Things Employees Want | Work Values Survey at Career Vision | Free Employment Engagement Survey printable from Baudville.com | Career Goals Examples from the Udemy Blog.
This is one of the weekly activities for a Year of Personal Development.