"Time = Life. Therefore, waste your time and waste your life. Or master your time and master your life." -Alan Laekin
Time is life, and if we aren't spending it well, we aren't living the way we want to. You may have heard the saying "time is money," and we all know it is valuable. Yet it is often wasted. It is all too easy to put something off until tomorrow, when we will have more time… and maybe we will. Each day 24 hours is credited to our account, and we all receive the same amount. But it can so easily slip through our fingers, a treasure stolen away by procrastination, interruptions, and indecision. We attempt to measure it with clocks and watches, but cannot save it up for another day.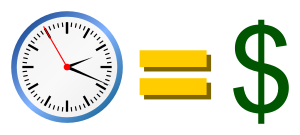 We all have fixed time expenses such as working, eating and sleeping. Usually there is some discretionary time each day that we can spend as we choose. If we cut spending time on non-essentials and time wasters, it can be invested where it counts the most: on the things that are most important. A well-balanced time budget includes time for priorities in different areas of life.
Every day we make choices, and every choice has a consequence. When we say yes to one thing, we are saying no to another. This is the most important thing to remember: if we choose to waste time on low-priority distractions, we are saying no to the important things we have said that we want to do. The reality is that once those moments are gone, they are gone forever, and cannot ever be spent on anything else. There's another chance tomorrow, but today's opportunity is lost. That time is not in the bank. It's been withdrawn from our time account and burned up into ash. If we continually procrastinate and waste time, time may run out before we get the important things done. Learn about strategies to get motivated and overcome procrastination.
We should take care of our time, just as we take care of our money! A good starting point is to do a time audit and learn more about using time well at Time Management 101.
Videos: The value of time (1:01 ) 10 commandments of non-productivity (4:48)
We only have the gift of so much time, so make today count!